FC117A
A Brief History of Surgery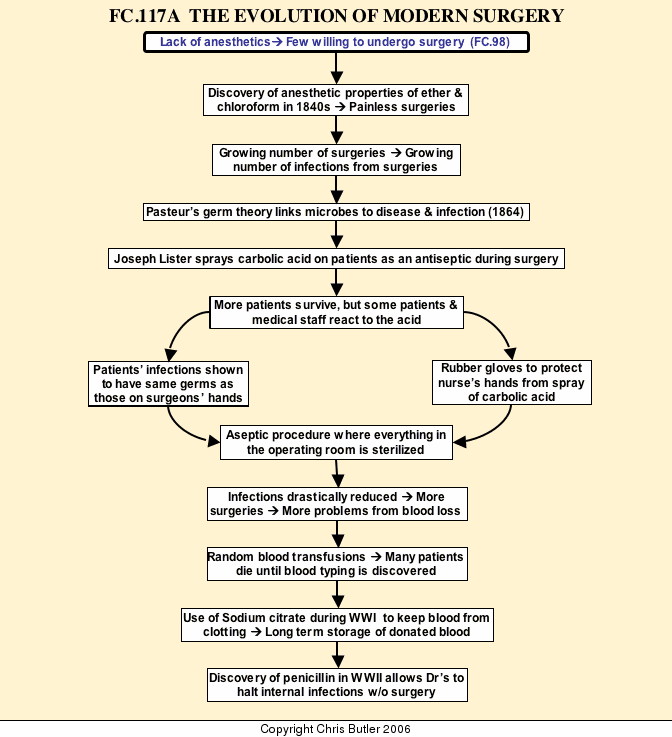 Until the 19th century, surgery remained a brutal craft often left to barbers simply because they had the cutting tools.  The lack of anything to kill the pain of surgery, along with continuing reservations against dissection, created a vicious cycle where there were few people willing to undergo surgery, which led to limited research and knowledge, further discouraging people from undergoing surgery and so on.  Thus surgery progressed very little through the centuries.  All that changed in the 19th century.

It started with the discovery of the anesthetic properties of ether and chloroform in the 1840s, thus making surgeries painless, although there was plenty of pain after the anesthetics wore off.  Still, the number of people willing to undergo surgery rapidly multiplied.  However this led to another problem: infections from surgery killing patients after presumably successful surgeries.  Previously, with so few people willing to undergo surgery, and so many of them dying on the operating table, infections from surgery itself were relatively rare, and their causes (i.e., unclean surgical instruments and operating conditions) remained a mystery.  Then came the answer: germs.

When people such as Louis Pasteur and Joseph Lister first linked microbes to disease and infection, they were met by widespread skepticism from people who refused to believe disease and infection could come from things so small we can't see them without a microscope.   However, when Pasteur came up with a vaccine against rabies based on his theory, people took notice.  Lister applied this theory to surgery by spraying a fine mist of carbolic acid on patients during surgery to kill any germs.  As a result, deaths from infections after surgery dropped dramatically.  

Unfortunately, some patients and medical staff reacted badly to the carbolic acid.  This had two results. First, experiments showed that patients' infections had the same germs as those on surgeons' hands.  Secondly, to protect his trusted head nurse's sensitive hands, Lister had the Goodyear Rubber Company make some rubber gloves.  Out of these two things came aseptic procedure, where everything in the operating room was sterilized, thus eliminating the need for the annoying carbolic acid.  Ironically, the rubber gloves first developed to protect the hands of Lister's head nurse (whom he later married) were now used to protect the patient from germs on the medical staff's hands.

Aseptic procedure drastically reduced the number of infections from surgery and dramatically increased the number of surgeries being performed.  This brought up another problem: blood loss.  At first, doctors tried random blood transfusions from other people, saving some patients but killing others.  This led to new research and the discovery of blood types.  Now blood donors' blood could be accurately matched with that of patients.

Then came World War I and the need for blood donors drastically increased.  However, donors' blood clotted soon after being taken, preventing its storage or transport long distances to field hospitals where it was needed.  Then someone discovered that sodium citrate kept blood from clotting, thereby saving thousands of lives.

In spite of all these advances, invasive procedures like surgery were still a shock to the system and quite painful during recuperation.  Fortunately, one more discovery during World War II helped reduce the need for surgeries: penicillin and other antibiotics that could cure infections without the patient having to go under the knife.

Since World War II a staggering number of advances in surgery have taken place.  At the same time germs have mutated quickly, so our arsenal of antibiotics is becoming less and less effective.  The battle goes on.


FC109
The Agricultural Background to the Industrial Revolution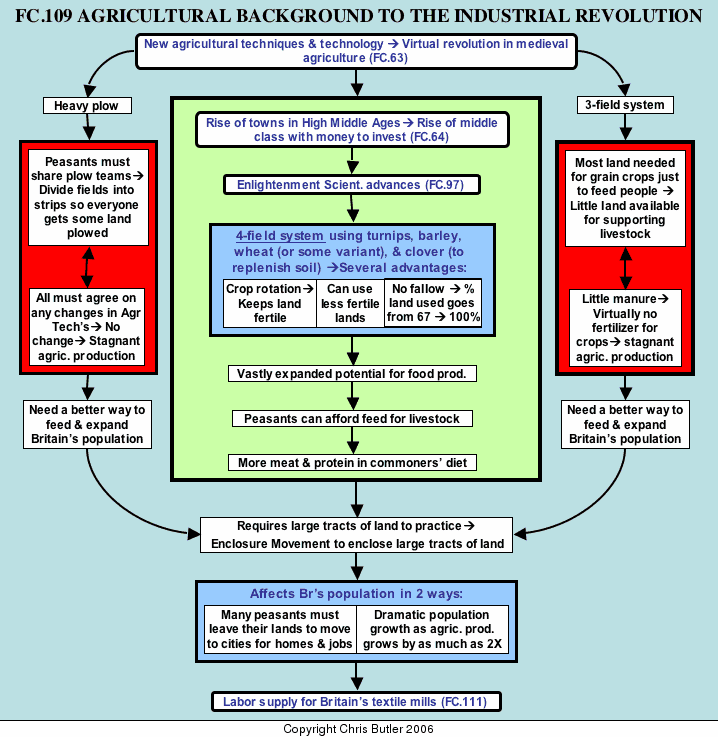 Introduction
No other event or series of events in history has had nearly the impact of the Industrial Revolution.  Most likely, people living in the 1700's could more easily relate to the lifestyle of ancestors 2000 years earlier than to our lifestyle a mere 200 years later.  Our life expectancies are more than double that of our ancestors.  We travel thousands of miles much more easily, quickly, and comfortably than they could travel 20 or 30 miles.  We are in much closer touch with events on the other side of the globe than they were with events in the next village.  And the price we pay for our medical care, balanced diet, rapid transportation, and mass communication involves much less effort than what they spent for their more primitive comforts and necessities.
Although industrialization happened rapidly, one can see a long steady build-up toward it in Western Europe over many centuries.  The extensive use of water wheels, windmills, and other labor saving devices all put the European mentality in touch with exploiting natural forces and laws to increase productivity.  The invention of the clock changed Europeans' attitudes toward time, disciplining and regulating their lives to a degree of precision necessary for industrialization.  And the Enlightenment's scientific discoveries laid the foundations for the dramatic industrial and scientific advances of the 1800's.  All of these developments took place in Western Europe because of a complex variety of forces that fed back on one another to intensify their effects.
A new agricultural revolution
Just as various forces combined to make Western Europe the birthplace of the Industrial Revolution, several factors combined to focus on Great Britain as the specific area of Europe where industrialization would first take root.  One of these was a rapid growth in agricultural production and the labor force that started with the agricultural revolution in the Middle Ages. This led to three lines of development that would later converge to create a new agricultural revolution in the 1700's.
First of all, the three-field system developed in the Middle Ages required nearly all the farmland for growing grain crops.  This left little land for grazing cattle, which, in turn, produced little manure for fertilizer.  As a result, crop yields were down, forcing peasants to use most of the land for grain crops, and so on.  This made the agriculture fairly stagnant and created the need for a better way of feeding Britain's population.
Another medieval innovation, the heavy plow, also generated a vicious cycle.  Since peasants were typically too poor to own enough oxen to pull a plow, they had to share plow teams.  As a result, they broke their fields into strips in order to ensure that everyone got at least some of his land plowed.  This left everyone's lands interlocked in scattered strips of farmland.  Because of that, there was little incentive or opportunity to try new agricultural techniques, since all the peasants had to agree on any changes and switch all of the village's lands to the new system.  Getting everyone to agree to any such changes was extremely difficult.  As with the three field system, this also made agriculture fairly stagnant, keeping individual peasants too poor to farm independently, forcing them to continue sharing plow teams, and so on. This also created the need for better agricultural techniques.
However, another result of the medieval agricultural revolution, the rise of towns in the High Middle Ages, unleashed forces that pushed for change in two ways.  First of all, by the early modern era, the rising middle class had bought up much of the farmland in their ambitions for secure investments and noble titles.  These landowners were more open to new farming techniques that could earn them more profits.  Second, the Enlightenment was discovering new ways to grow better crops. These two factors led to the four-field system that used all four fields rather than leaving one fallow.  This had three advantages.  First, it made previously useless and marginal land useful, thus expanding the amount of land under cultivation.  Second, it used clover and turnips in the fourth field to maintain the soil's fertility.  Finally, with the fourth field now in use, it was using all of the land every year rather than having to keep part of it fallow.  These factors led to better crop production so that peasants could afford feed for livestock, leading to more meat and protein in the common people's diet.  Unfortunately, this new and more efficient agriculture required large open tracts of land.
In the 1700's, the need for better agriculture and the need for large tracts of land for this new type of agriculture led to the Enclosure Movement, whereby wealthy landowners enclosed the common lands so they could practice the four-field system.  This created two effects that helped lead to the Industrial Revolution.  First of all, the Enclosure Movement drove many people off their lands, forcing them to flock to the cities in search of homes and jobs.  Also, this new kind of agriculture doubled food production, thus leading to dramatic population growth in England in the 1700's.  The combination of population growth in the cities created the labor supply for Britain's textile mills when the Industrial Revolution began.
FC110
The Technological Background to the Industrial Revolution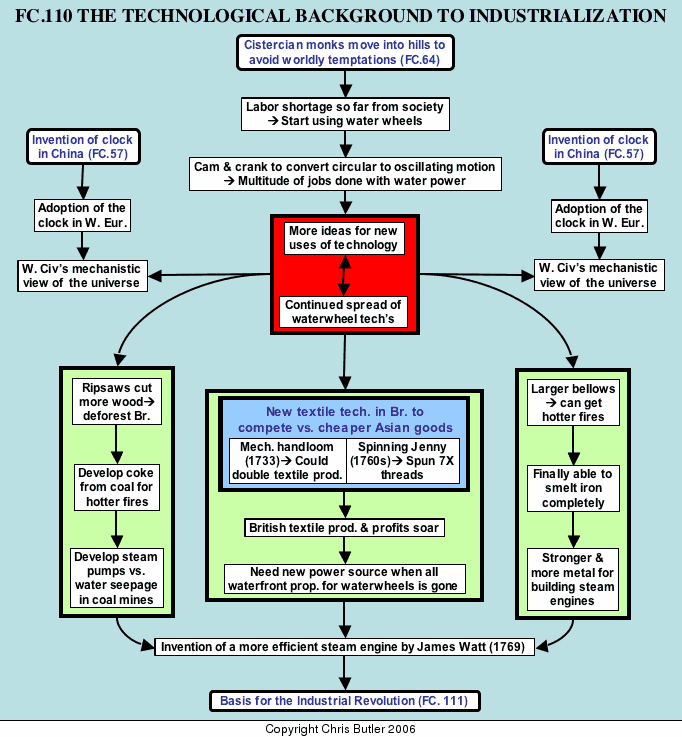 The medieval roots of the Industrial Revolution
If new agricultural developments provided the backbone for supporting the Industrial Revolution, various technological innovations were its heart and soul. And the roots of those innovations and the cultural attitudes so vital for their formation go all the way back to the Middle Ages and the Cistercian monks.  What triggered all this was the Cistercians' desire to get away from the evils of the world. This led them to found their monasteries in the wilderness away from civilization, but also away from any outside labor supply upon which they might rely.  Being thrown back on their own resources, they rediscovered, probably in an old Latin or Greek text they were copying, the principles of applying water power with a waterwheel.  The ancient Greeks had come up with this invention, along with the principles of steam power.  However, the abundance of cheap human labor meant there was no real need for water or steam power in the ancient world.  As a result, these principles lay largely unused until this time.
However, the Cistercians did need such principles and started experimenting with labor saving waterwheels, first applying them to the milling of grain into flour.  Two later inventions dramatically expanded its uses.  First, there was the cam, which was a piece of wood set on the drive shaft that struck anything in its way, such as a bellows or trip hammer, with each revolution of the waterwheel.  Second, there was the crank that could convert the circular motion of the waterwheel into oscillating motion.  These two developments led to applying waterpower to a multitude of tasks: They could drive ripsaws, bellows, and water pumps.  They were connected to grinding stones for sharpening and polishing tools, weapons and armor. And they could power trip hammers for fulling cloth, crushing sugarcane, and pounding hemp and rags for rope and paper.
The number of mills that sprang up was astounding.  William the Conqueror's census in 1089, the Domesday Book, listed no fewer than 5624 watermills in England alone.  That was one mill for every 50 families and is estimated to have saved the average peasant wife two to three hours of work per day once the tedious task of milling grain was mechanized.  The main branch of the Seine River going through Paris had 68 mills.  Another sixteen-kilometer stretch of stream had 30 such mills.  Wherever rivers were slow, people built dams to increase the waterpower and floating mills to use that power.  And where there were no rivers at all, they applied these mechanical principles to harnessing other types of energy, building tidal mills along the ocean and windmills (originally a Persian invention) on flat open land.  By 1600, some 40 different types of industries were wholly or partially dependent on water or wind power, mechanizing such tasks as spinning silk, boring the barrels from cannons and muskets, and making gunpowder.  In 1694, Louis XIV's main military engineer, the Marquis de Vauban, estimated that France had 80,000 flourmills, 15,000 industrial mills, and 500 iron mills.
As waterwheel technology spread across Western Europe, so did a growing awareness of how to exploit mechanical principles in general.  In addition to harnessing the power of the tides and winds, Europeans were also developing better clocks (originally a Chinese invention).  In fact, the clock would become the symbol of Europe's increasingly mechanistic view of the universe.  However, while Europeans were harnessing time and parceling it out in discrete units of hours, minutes, and seconds, the clock was also more tightly structuring how Europeans lived their lives.  This would be another important aspect of the Industrial Revolution as far as conditioning factory workers to the time clock and creating a more precise society.
It was Europeans' rising ability of how to exploit mechanical principles that led to three lines of technological development that together would culminate in possibly the most critical invention of the Industrial Revolution: the steam engine.  Those lines of development had to do with mechanical ripsaws, larger bellows, and innovations in the textile industry.
The textile industry in Britain
Britain in the 1700's was the perfect example of the idea that necessity is the mother of invention.  The triumph of the mercantile middle class in the English Revolution of the 1600's and the growth of European colonial empires, especially that of Britain, had created global trade links such as had never been seen before.  However, opening up such new vistas often creates problems, and that was the case with European textile production.  Europe's higher standard of living made its goods and labor more expensive, which led to an influx of cheaper textiles from India that could undersell European, and particularly British, goods.  In order to compete more successfully, British textile producers needed a cheaper and faster way to produce cloth.
The answer came with the invention of the more mechanized handloom (1733) which had a "flying shuttle" that quickly wove the weft thread in between the warp threads This could double the speed of production, except for one other problem.  The spinning wheel used to spin the thread for the loom was too slow.  The solution came with two more inventions in the 1760's: the spinning jenny, which could spin seven threads at a time, and the water frame which could use water power to increase the speed of spinning and weaving even more.  This series of inventions gave the British textile industry a tremendous boost, and soon textile mills were springing up on just about every available bit of river front property.  Unfortunately, the amount of such property was limited, and soon profit hungry businessmen were looking for a new power source to drive their looms and spinning jenny's.  Luckily, all this while a new power source had been emerging.  That was the steam engine
Ripsaws and bellows, coal and iron
As mentioned above, one important application of the waterwheel was to drive larger bellows.  What this made possible was hotter fires with which metal smiths could finally smelt iron.  And that provided purer iron for building stronger boilers and steam engines.
Another important development was the water-powered ripsaw.  This was a much more efficient way to cut timber, so efficient in fact that, by 1600, most of Britain was effectively deforested.  Therefore, the English, largely without their primary heat source, wood (and charcoal processed from wood), had to find something else to burn.  They found it in Britain's plentiful coal deposits.
One problem with coal is that it burns much less cleanly than charcoal, making it harder to come up with good iron.  This was until 1709 when someone discovered a way to process coal into a cleaner and hotter burning substance known as coke.  However, it was not until 1783 that a smelting technique, known as rolling and puddling, was invented which worked the impurities out of iron and made it strong and cheap enough for widespread industrial use.  With stronger and cleaner iron, people could make boilers able to withstand the higher steam pressures needed for more powerful steam engines.  This of course was only relevant once the steam engine had been invented, which brings us to another problem with coal.
Unfortunately, most of Britain's coal was buried in deposits that required the construction of deep shaft mines.  Eventually coal miners ran into that curse of all deep mines: water seepage.  It was here that a crude steam pump was devised to give steam its first practical job.  Unfortunately, this early pump was inefficient and burned nearly as much coal as was being mined.  More efficient models were designed, notably that of Thomas Newcomen.  But a truly efficient design did not come along until 1769 when James Watt introduced a practical two-chamber steam engine that made steam power economical to use in the mines.
Not only was steam power practical for the mines.  It also found applications in the textile mills for those businessmen not lucky enough to have waterfront property and the free power that went with it.  As a result, British textile production jumped by a factor of 30 times.  With each passing year, the hissing, churning, and pumping of the steam engines rang louder in Britain's cities while the black smoke from burning coal steadily darkened its skies.  The Industrial Revolution had been born.
FC111
The Start of the Industrial Revolution in Britain (c.1750-1800)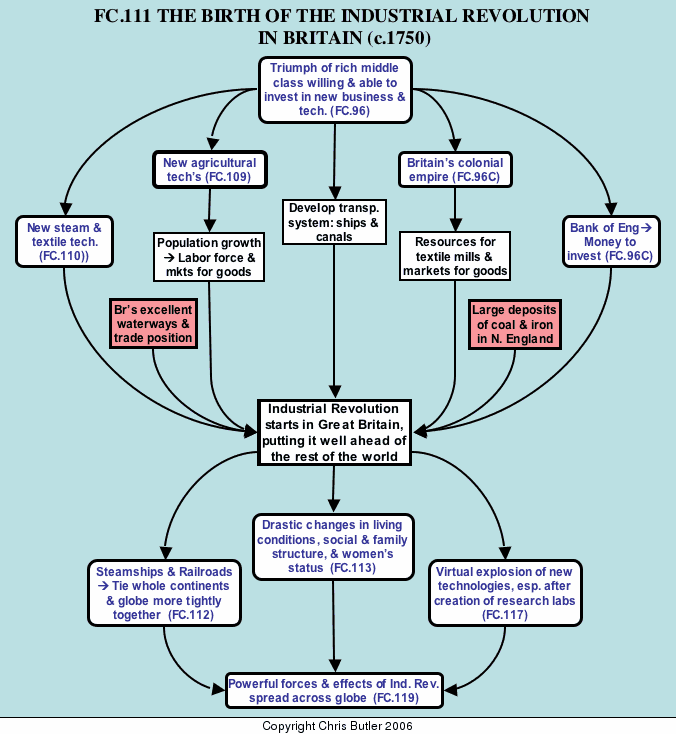 Although the four-field system and steam engine provided the basic foundations for the Industrial Revolution, it took other factors combined with these to create this phenomenon.  As it happened, Britain in the 1700's was the place where all these factors converged to make it the birthplace of the Industrial Revolution.
Much of Britain's favored position came from the English Revolution of the 1600's and the triumph of a wealthy middle class with both the money and willingness to invest in new ventures.  This created five basic lines of development that together would trigger the Industrial Revolution.  The first of was the new steam and textile technology.  Second, there was the new agriculture and population growth crating both the labor force for the new industrial factories and the markets to buy their manufactured goods.  The third factor was Britain's colonial empire, which provided raw materials for the factories as well as more markets for their goods.
Fourth was the development of a superior transportation system for getting raw materials to the factories and finished products to markets.  Britain was especially favored in this respect, being an island with navigable inland rivers further enhanced by a well-developed system of canals.  This, along with its colonial empire, prompted the British to build an excellent merchant marine for transporting its goods.  Also, as the nineteenth century progressed, a new form of technology, the steam locomotive traveling on steel rails, would make overland transport increasingly economical and efficient for the first time in history.
The fifth and final factor was a large surplus of capital along with the willingness to spend it on new machines and technology.  Central to this was the Bank of England, which encouraged investment, stability, and economic growth in both the public and private sectors.  Consequently, when the machines and opportunities to exploit them came along, British businessmen were in by far the best position to take advantage of the situation, making Britain the banker of the world for the next century.
Two other factors also helped Britain.  One was its excellent position as an island, which not only helped its trade, but also insulated it from continental wars.  Also, Britain was blessed with extensive coal and iron deposits.  By 1850, one-half of the world's iron and a full two-thirds of its coal production would come from British mines.  Along with providing the resources for producing steam power and heavy industrial machinery, it also triggered a dramatic migration from the more agricultural south to the industrial north where the coal and iron fields lay.  In addition to coal and iron, Britain also had access to plentiful supplies of Scottish wool for its textile mills.
Later, Britain would rely on cotton from America.  Once Eli Whitney's invention of the cotton gin (1793) solved the problem of cleaning the seeds out of the fiber, the southern United States became a primary cotton producer for British factories.  However, the cotton gin had unforeseen and far-reaching consequences since it prolonged the life of slavery in the United States, making it a red-hot issue in American politics and a major factor leading to the American Civil War.
All these various factors (the new steam and textile technology, a large labor force, extensive markets at home and in its colonies, a superior transportation system, plenty of capital, extensive raw materials, and an excellent position for trade) combined to create a textile industry that could produce, transport, and sell vast quantities of cheap cloth by the late 1700's.
The result of all this was an industrial revolution of vast importance in a number of ways.  For one thing, it would spawn the steam powered locomotive and railroads which would revolutionize land transportation and tie the interiors of continents together to a degree never before imagined.  It would trigger massive changes in people's living and working conditions as well as the structures of family and society.  And its momentum would generate a rapid-fire chain reaction of new technologies, a process that is still accelerating today and shows no signs of slowing down.  Nor would these dramatic changes be confined to Europe. Rather, their power would spread across the globe to change the way the entire human species lives, for better or worse.
FC112
Railroads and Their Impact (c.1825-1900)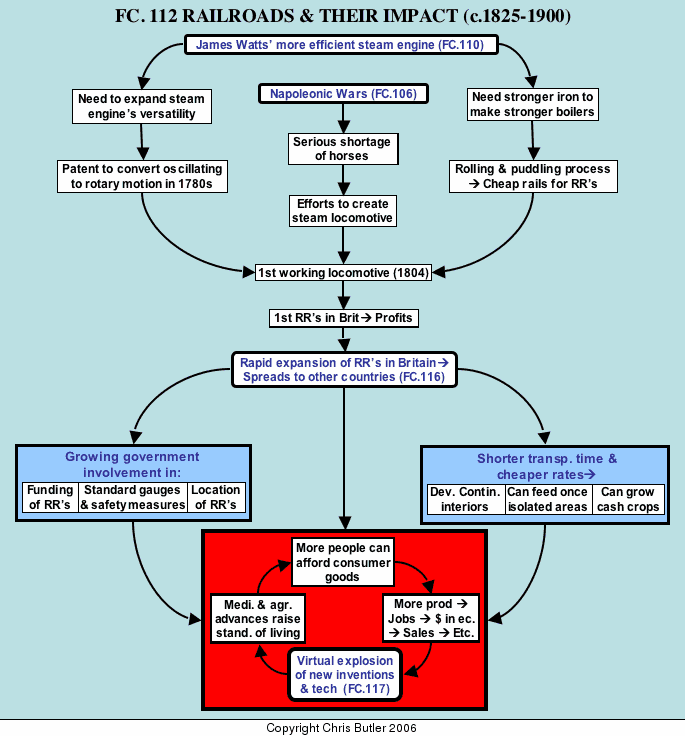 No invention of the 1800's played a more vital role in the Industrial Revolution than the steam locomotive and railroad, triggering the biggest leap in transportation technology in history.  The technology central to railroads, the steam engine, needed two major improvements.  First of all, a way had to be found to convert the oscillating motion of the steam engine to rotary motion so it could drive the locomotive's wheels.  The solution came with James Watt's Sun and Planet gear, which connected the piston to the wheels somewhat off center to drive it forward.  Secondly there was a need for stronger iron so boilers could create and withstand the pressure needed to drive steam locomotives.  In 1783, the rolling and puddling process was invented, eliminating impurities in the iron and making it much stronger.  In addition to creating much stronger boilers, it also led to stronger and cheaper iron rails on which the locomotives could ride.
Another catalyst for the invention of the locomotive was the loss of so many horses during the French Revolutionary and Napoleonic wars.  This, along with the rolling and puddling method and Watt's Sun and Planet gear, sparked experiments leading to the first steam locomotive in 1804.  However, it was not until the 1820's, when a properly running locomotive had been designed and the rolling and puddling technique had advanced and become widespread enough to make good cheap rails possible, that the first railroads were born.
In 1825, the Stockton and Darlington Railroad carried the first commercial freight of any railroad in history.  Five years later, the Liverpool and Manchester Railroad opened operations carrying passengers as well as freight.  This quickly sparked a virtual mania for building railroads in Europe and the United States after 1830.  The 1800s saw incredible growth in the miles of track being laid.  In 1830, Britain had only 95 miles of track.  That figure had grown to 1500 miles by 1840 and 6600 miles by 1850.  By contrast, Europe in 1850 had only 8000 miles of track.  However, after 1850 Europe and the United States rapidly gained to Britain.  By 1890, Britain had 20,000 miles of track, while Germany had 26,000 miles and the United States had 167,000 miles.  Even Russia had 48,000 miles of track by 1900, although that was spread out over a vast area.
Such rapid expansion had both political and economic effects. Politically, the power of the state grew considerably.  For one thing railroads were expensive to build, leading governments to finance them directly or through massive land grants.  Also, everyone wanted railroads to pass through and benefit their regions.  At first, this was impractical, and governments often had to step in and decide where the main trunk lines should be laid before less profitable branch lines could be developed.  Finally, standard gauges (track sizes) and safety standards had to be set so that different railroads could easily link up and run their trains on other companies' tracks without crashing into one another.  Naturally, each railroad wanted to avoid the expense of adapting its own gauge to another company's standard, making it necessary for the government to step in and impose a standard gauge and safety practices.  Therefore, as railroads unified their nations economically, the governments directing their development unified their nations politically and increased their own power.
Railroads cut travel time by 90% and dramatically reduced freight costs with three important economic results.  First, they made possible the settlement and development of continental interiors.  For example, in 1869 the first transcontinental railroad across North America was completed, transforming an arduous and dangerous journey of months into an easy trip of a few days.  This linked the countryside more tightly to the cities, production areas to markets and raw materials, and continental interiors to coastlines and waterways.  Second, farmers switched from raising subsistence crops to cash crops better suited for their local soils, thus increasing crop yields dramatically.  They could then sell the crops, buy the food needed to feed themselves, and still have money for buying consumer goods.  Finally, areas previously isolated during famines could now be supplied, leading to fewer deaths from hunger and starvation and corresponding increases in population.
With factories more closely connected to markets and the larger population of potential consumers, many more people could afford consumer goods.  This stimulated sales, providing more jobs, increased production, and lower prices.  With business booming, companies developed new products, triggering a virtual explosion of new technological advances, inventions, and consumer products in the latter 1800's.  All these advances led to a higher standard of living, which further increased the consumer market, starting the process all over again.
By 1900, railroads had virtually revolutionized overland transportation and travel, pulling whole continents tightly together (both economically and politically), helping create a higher standard of living, the modern consumer society, and a proliferation of new technologies.  Although airplanes and automobiles would continue this revolution, it was the railroad that paved the way.
FC113
The Social Impact of Industrialization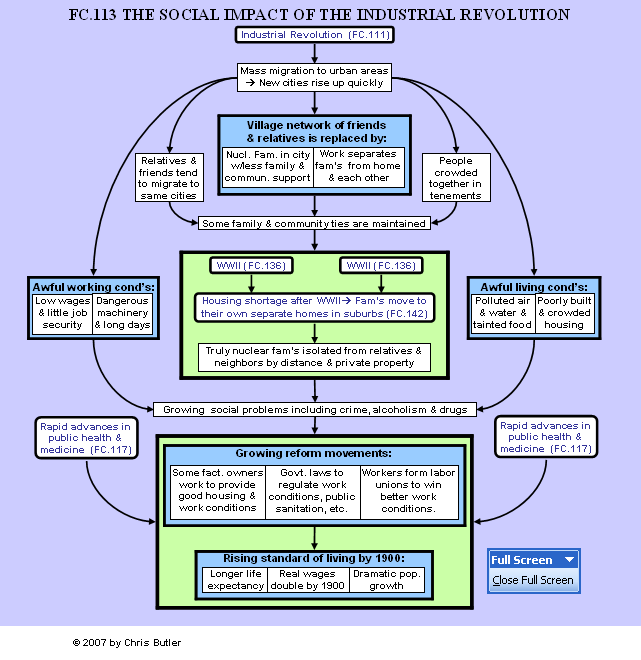 "It was a town of red brick, or of brick that would have been red if the smoke and ashes had allowed it; but as matters stood it was a town of unnatural red and black like the painted face over which interminable serpents of smoke trailed themselves for ever and ever, and never got uncoiled. It had a black canal in it, and a river that ran purple with ill-smelling dye, and vast piles of buildings full of windows where there was rattling and a trembling all day long, and where the piston of the steam-engine worked monotonously up and down like the head of an elephant in a state of melancholy madness. It contained several large streets all very like one another, and many small streets still more like one another, inhabited by people equally like one another, who all went in and out at the same hours, with the same sound upon the same pavements, to do the same work, and to whom every day was the same as yesterday and tomorrow, and every year the counterpart of the last and the next...
"You saw nothing in Coketown but what was severely workful. If the members of a religious persuasion built a chapel there-- as the members of eighteen religious persuasions had done-- they made it a pious warehouse of red brick, with sometimes (but this is only in highly ornamental examples) a bell in a birdcage on the top of it.... All the public inscriptions in the town were painted alike, in severe characters of black and white. The jail might have been the infirmary, the infirmary might have been the jail, the town-hall might have been either, or both, or anything else, for anything that appeared to the contrary in the graces of their construction. Fact, fact, fact, everywhere in the immaterial. The M'Choakumchild school was all fact, and the school of design was all fact, and the relations between master and man were all fact, and everything was fact between the lying-in hospital and the cemetery, and what you couldn't state in figures, or show to be purchaseable in the cheapest market and saleable in the dearest, was not, and never should be, world without end. Amen." —From Hard Times by Charles Dickens
Today we see the Industrial Revolution as being responsible for the higher standard of living we enjoy. This, of course, is true, but there was a great and, at times, appalling, price paid in human suffering to attain this standard of living. From the start, industrialization meant the transformation of countries' populations from being predominantly rural to being predominantly urban. In England, this involved the migration of millions from the agricultural south to the cities springing up near the coal and iron fields in the north. The population of Manchester, England grew from 25,000 in l772 to 303,000 by l850. Liverpool's population rose from 80,000 to 397,000 in the first half of the nineteenth century. Other cities told similar stories of incredible growth. Overall in Britain, the number of cities with populations of 50,000 or more rose from 3 in l785 to 3l in l860. By l850, Britain had become the first nation in history to have a larger urban than rural population. Other countries would soon follow suit.
These early industrial cities created problems in three areas: living conditions, working conditions, and the social structure. First of all, cities built so rapidly were also built shoddily. Tenement houses were crammed together along narrow streets, poorly built, and incredibly crowded. Whole families were packed into attics, cellars, or single rooms, with one house holding 63 people in 7 rooms. Sanitation was virtually non-existent, making clean water a luxury reserved for the rich. Open sewers ran down streets carrying water fouled with industrial and human waste. Diseases such as cholera, typhoid, typhus, and tuberculosis often reached epidemic proportions. Add to these problems air pollution and malnutrition, and one gets a picture of incomparable human misery. Alcoholism, drug abuse, crime, and prostitution were natural outcomes of having to endure these conditions.
Away from home, working conditions were even worse. Depending on the hours of sunlight, the workday could extend up to l9 hours a day, six days a week. The work itself was hard, boring, and tedious. Conditions around the steam engines and in the mines were hot and at times extremely dangerous. In the absence of safety devices, machines often tore off fingers, hands, and even arms. Mine shafts would occasionally explode or cave in, trapping and killing hundreds of workers deep within the earth.
Despite all this, there were often long lines of the unemployed waiting for any available jobs. This surplus of labor kept wages excessively low. As a result, families had to send their women and even their children to work in the factories just to make ends meet. In fact, women and children were preferred as workers because they could be paid less while being worked harder. Occasional depressions in the economy could lead to whole industries shutting down. This left thousands of families with no jobs and no public welfare to see them through such hard times. Even medieval serfs had been assured some rights to a living off their lands, which was more than these people could often enjoy.
The Industrial Revolution also upset old social patterns of life and family. Under the old domestic system of cottage industries, peasants worked in their own homes, produced at their own rates, and were paid accordingly. Under the new factory system, laborers worked in the factories owned by bosses whom they rarely, if ever, saw. They had to be at work precisely on time and work at the much faster pace of the machines. Nevertheless, they were paid by the hour, not according to their productivity, since that was cheaper for the owner.
Previously, the farm, home and the workplace were one and the same, with men and women sharing in many of the same tasks. In the industrial city, there was a separation of home and workplace and a correspondingly greater separation of the roles men and women played. In middle class families, men went to work while women stayed home with the children. In working class families, men, women, and children all went to work, but usually to separate places. For both middle and working class families, these were added strains that pulled the family apart.
Although the nuclear family had generally replaced the extended family in European society since the Black Death (largely in order to keep from splitting up family lands), there was still a network of close friends and relatives in the villages providing each other mutual support. However, as individual families moved to the city, they left behind the support network of the villages, often living in isolation and having little or no support from their neighbors.
The growing numbers of people left helpless and destitute by the rapid changes of industrialization did not go unnoticed, and reform movements arose from three directions. Some reformers were genuinely concerned industrialists such as Robert Owen and W. H. Lever, who built model communities in which their workers could live and work. Other reformers were liberal politicians trying to alleviate the sufferings of the masses or conservative politicians trying to avert social revolution caused by such misery. Together such politicians enacted legislation that gradually eased the plight of the working class, such as the Factory Act of l833, which limited the use of child labor, and the Factory Act of l850, which limited women and children to workdays of ten and a half hours.
However, many workers felt that for real progress to be made, they would have to work for it themselves. That involved organizing into trade unions, the very existence of which was illegal until l824. Even then, they could only exist as mutual aid societies to provide their members with insurance against sickness and injury. Not until l87l could British unions represent their members' grievances and actively work for reforms. The struggle for those reforms was a long, hard, and often violent one. However, by the end of the nineteenth century, trade unions had made substantial progress toward improving the living and working conditions that industrial workers had to endure.
The standard of living for workers in the early Industrial Revolution was certainly horrible, but it did improve in the course of the nineteenth century. Two types of statistics tell us this. First of all, the overall population of Europe rose dramatically from some l87,000,000 in l800 to 466,000,000 by l9l4. Add to that another 60,000,000 who emigrated to other continents, and one gets the distinct impression that the overall standard of living in Europe was getting better.
Another figure telling a similar story of progress is the average life expectancy of Europeans during this time. In l800, most people could expect to live around 30 years or less, depending on their social class. By l900, the average life expectancy had risen about fifty per cent to 45 years. Better living conditions and nutrition, public sanitation, and great advances in medical science were all responsible for this jump. However, the price those early generations of factory workers paid for this progress and our own comfortable life styles was a terrible one indeed.
FC114
The Rising Status of Women in the Late 1800's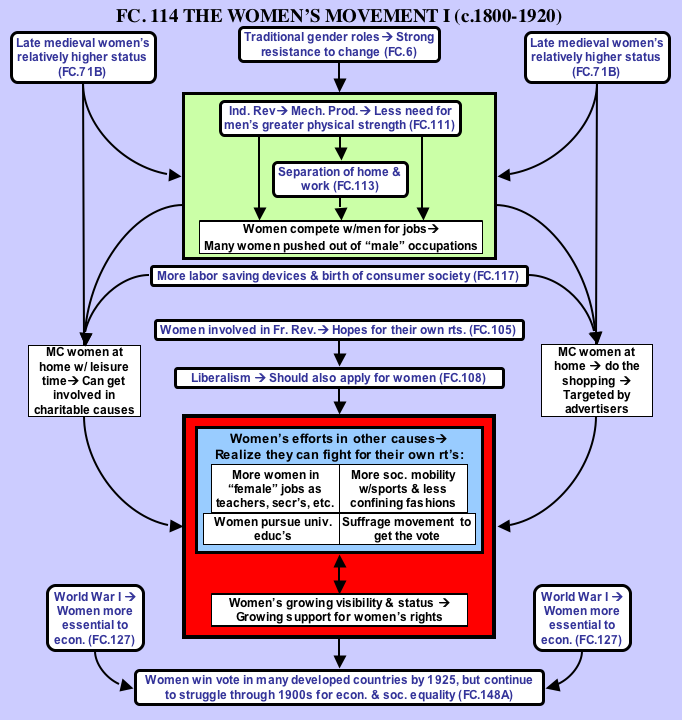 One of the most dramatic and unexpected consequences of the Industrial Revolution was the rising status of women by the end of the nineteenth century. Two aspects of industrialization in particular moved society in this direction. First of all, there was the separation of home and the workplace, which led to men often competing with women for factory jobs. Men disliked this, especially since women were often preferred by factory owners who could more easily overwork and underpay them. Therefore, working class men did what they could to push women out of what they saw as "male" occupations in order to keep their jobs.
This, along with the growth of new technologies and the emerging consumer society, had two effects. For one thing, more affluent middle class women especially tended to stay home in what became associated with the "housewife" role. This gave many women more leisure time, which they often used to get involved in political and social issues. Oftentimes, this would start through participation in church activities that typically were concerned with such causes. At the same time, since many middle class women were spending time at home and doing the shopping, they were seen as important aspects of the emerging consumer society. Therefore, the advertising industry targeted many of its campaigns specifically toward women. As a result, women's status in society started rising in the last half of the nineteenth century.
By the same token this rising status opened up new avenues of activity and expression for women. More women pursued secondary and university educations. Many of them also found their way into the workplace in what would eventually come to be seen as "female" occupations as nurses, teachers, and secretaries. In their leisure time, women took part in casual social dancing and sports. At first these were "feminine" sports such as croquet, bicycling, and horseback riding using the more "feminine" (and dangerous) sidesaddle. Even women's fashions in the early twentieth century reflected their social mobility by becoming increasingly less confining. More adventurous women were also taking part in mixed swimming and tennis. Only six years after the inauguration of men's singles at Wimbledon, women had their own singles tournament. Not only did women's rising status allow them to take part in these activities, but these activities gave women more visibility in society and increased their status, thus opening them more doors, and so on.
All this encouraged many women to work for suffrage (the right to vote). Serious discussion of this topic largely started with the French Revolution. Mary Wollstonecraft's book, A Vindication of the Rights of Women, argued that women were neither mentally or physically inferior to men and that different standards for women were stifling to both sexes. This gained further support, including from such men as the political philosopher, John Stuart Mill. In Britain, demonstrations to gain the vote occasionally met with harsh reactions from men. When several women were jailed after a demonstration in 1905, newspapers finally broke their silence on the suffrage issue. This gave more publicity and support for women's suffrage, which sparked more demonstrations, reactions, publicity and sympathy, and so on. Although some women, frustrated at their treatment, turned to more destructive and even violent actions (vandalism, bombs in mailboxes, and one woman even throwing herself in front of a racehorse), most kept to more moderate tactics and continued to gain support.
Two things accelerated this process. First of all, women became especially vital to the workplace during World War I when so many men were gone and women were needed to fill their jobs. Secondly, there was the philosophy of Liberalism, which was originally intended to apply just to men. However, it could just as easily apply to women and became the philosophical basis for the women's suffrage movement. In 1918, women over 30 won the vote (thus keeping male voters in the majority until 1927 when women over 21 could also vote). Women in other industrial countries soon gained suffrage: Finland (1906), Norway (1913), Russia (1917), and the United States (1919), along with Germany, Sweden, Austria, and the Netherlands. France, Italy, Switzerland and eventually most other countries around the globe would grant the vote later in the century. However, many barriers to equality remained and the struggle to attain equal status continues today.
FC115
Socialism and the Marxist View of History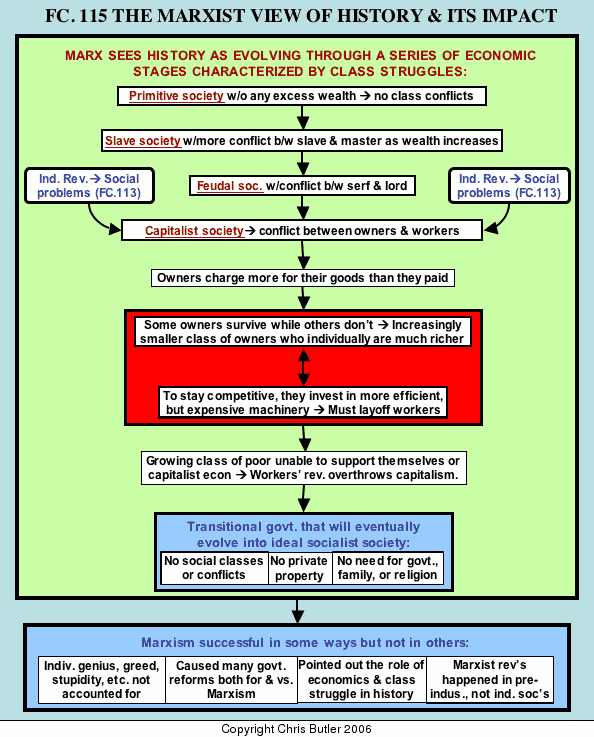 Religion is the opiate of the masses.
—
Karl Marx
One of the most powerful and influential philosophies of the nineteenth and twentieth centuries has been socialism, a doctrine believing the means of production should belong to the workers.  This contrasts sharply with capitalism which has a small but very rich class of capitalists owning the means of production and an underclass of workers with little or no say in company policies.  Socialism was a response to the horrible working and living conditions of the early industrial revolution.  It was highly idealistic, drawing inspiration from a tradition of early Christian communal societies.  In fact, it was often too idealistic and democratic, which doomed many early socialist communal experiments, such as one in New Harmony, Indiana, to failure.
Much more radical was Marxism, named after its founder, Karl Marx, who published The Communist Manifesto in 1848.  While early socialists tried to build a new order within the existing one, Marx believed the present order must first be destroyed by revolution before a truly socialist society could evolve.  However, Marxism is more than just a revolutionary call to arms for the working class.  It is an entire system of thought with its own all encompassing view of society, economics, and history.
To start with, Marx believed in economic determinism, the idea that how a society produces and distributes its wealth will determine its social and political structure, laws, and even religion.  Therefore, he saw history as a series of class struggles as humanity evolved through five basic stages of society:
Primitive hunting and gathering societies which had no extra wealth and therefore no private property, social classes, class struggles, or even the need for government;

Slave societies with a rich ruling class opposed by an oppressed underclass of slaves;

Feudal society with a noble class of landowning lords opposed by an oppressed class of serfs;

Capitalist society with a rich class of factory owners (bourgeoisie) opposed by an oppressed class of factory workers (the proletariat); and finally

Socialist society run by the workers with no private property, and thus no social classes, or class conflicts.
Marx saw each type of society as a necessary stage in the evolution toward the socialist society.  Likewise, he saw the capitalist society of his own time as self destructive and moving inevitably toward socialist revolution.  This largely hinged on his labor theory of value.  This stated that any product was only worth as much the workers were paid to make it.  Anything a capitalist charged beyond this amount was called surplus value.  And it was here that Marx saw the beginning of the fatal cycle that would destroy capitalism.
If capitalists charged more for a product than their workers were paid to make it, not everyone could sell their goods because, among other things, the workers would not be paid enough to buy them.  This would drive some owners out of business and create a smaller business class, although individually they each would be richer.  However, to stay competitive, they would have to invest in more efficient, and expensive, machinery, thus laying off workers in the process.  Since they would still overcharge for their products and there were now even fewer workers to buy them, more owners would be driven from business and the cycle would repeat.
However, this cycle could not continue indefinitely, since each time around there would be a growing gap between the fabulously rich and desperately poor.  Eventually, this would trigger a revolution that would destroy the capitalist order.  The triumphant workers would then build a society where people as a whole owned everything in common.  Private property would disappear, and with it social classes, conflict over property, and any need for government, family, and religion, which were all seen as instruments of bourgeois oppression.  There would be no rich or poor, thus allowing each individual to find true fulfillment.  However, for all of this to happen, an intermediate stage of government would be necessary to guide the revolution to this workers' utopia.
Marxism had both its good points and its problems.  First of all, it was valuable for pointing out the importance of economics and class struggle in history.  On the other hand, it failed to account for the role of individual genius, stupidity, and especially greed in human affairs, assuming that everyone would voluntarily give up all individual possessions for the common good.  Also, Marx assumed his socialist revolution would take place in industrialized countries, when in fact it actually occurred in pre-industrial societies such as Russia, China, and Cuba.  This was largely because, by Marx's death in 1883, conditions for industrial workers were starting to improve, thus undercutting any appeal socialist revolution might have for them.  However, many subsequent social reforms, both in countries that hated and feared Marxism as well as ones that followed it, could trace their existence back to Karl Marx.
FC116
The Spread of Industrialization Beyond Britain (c.1850-1900)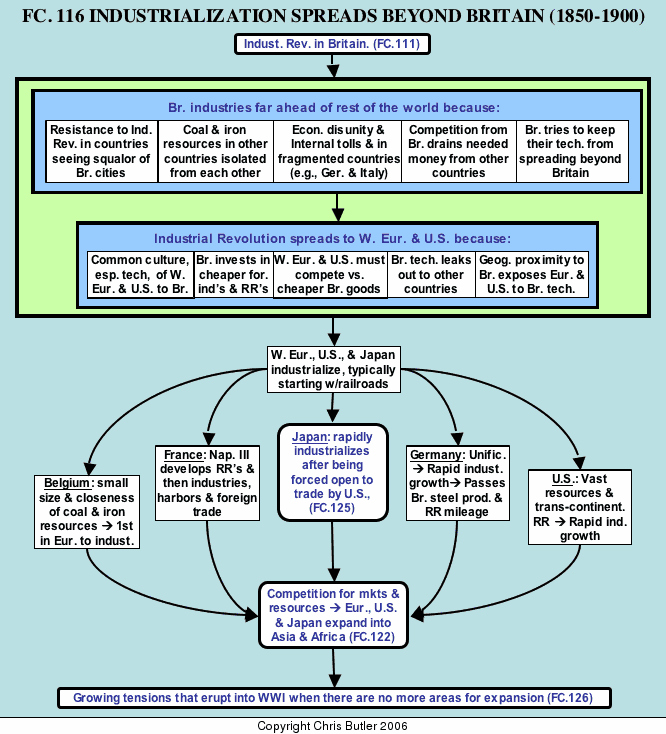 By 1850, Britain had become the first industrialized country in the world, with over half of its people living in cities. It controlled ninety per cent of Europe's steam shipping along with half of the world's iron and two-thirds of its coal production. However, outside of Britain, industrial factories were few and far between. There were several reasons for this. For one thing, the competition of cheaper British goods drained the capital needed for investment in industry from other countries and toward Britain. Internal tolls and political disunity prevented the integration of national economies needed to industrialize. Coal and iron deposits were usually far from each other, making it hard to concentrate the resources needed for industrialization. Britain itself actively worked to keep its technical knowledge from leaking beyond its shores. Finally, there was widespread resistance to industrialization in other countries, as people were reluctant to give up their traditional ways, feared the loss of jobs to machines, and saw the pollution and squalor of Britain's cities at that time.
Being so far ahead of the rest of the world, Britain decided to hold a magnificent trade fair, The Great Exhibition, in 1851 to show off its technological achievements. Other countries also contributed exhibits, but Britain's were the centerpiece of the show. Among these was the exhibit hall itself, the Crystal Palace, a magnificent structure of iron and glass covering 19 acres and even enclosing the trees of Hyde Park. The Great Exhibition and Crystal Palace symbolized the completion of Britain's industrialization and the beginning of the spread of industry to other parts of Europe and the world. After 1850, the most spectacular industrial advances would take place in Western Europe, the United States, and Japan.
Despite the edge Britain was showing off in the Great Exhibition, there were five main factors pushing even harder for Western Europe and the United States to industrialize. First, British competition forced these countries to industrialize in order to survive. Secondly, British businesses found ready and cheaper opportunities for building railroads and industries in foreign countries, thus helping them industrialize. Along these lines, Europe and America shared a common cultural heritage with Britain, including an aptitude for machines extending all the way back to the clocks and waterwheels of the Middle Ages. Along these lines, Britain was geographically close to the rest of Europe (and even the United States thanks to much faster steamships). Finally, constant contact with Britain meant that its knowledge could not be kept secret. Designs for steam engines and locomotives were bound to leak out, and they did with incredible impact. The first step most countries took to industrialize was to build railroads to link coal to iron deposits and factories to markets. Once a transportation system was in place, factory building and production could proceed.
Belgium was the first country after Britain to industrialize, largely because, being small and compact, its coal and iron deposits were near each other. Its government also established a national railroad in 1834 to tie the nation closer together. In France, as well, railroad construction, directed by Napoleon III and largely backed by British capital, led the way. By 1870, an extensive railway network radiated from Paris linking the agricultural south with the industrial centers in the north. Some said France did not experience an industrial revolution since it happened gradually and did not affect most Frenchmen who remained farmers. However, by 1900 France was a major industrial power following much the same pattern as other countries. Germany did not seriously start industrializing until after unification in 1871 when it could marshal all its resources in a concerted industrial effort. However, once unified, Germany saw a meteoric rise in its industrial might. Steel production doubled every decade from 1870 to 1900, passing even Great Britain in the 1890's. Its railroad mileage increased from 3500 in 1850 to 26,000 by 1900.
The United States saw even more dramatic industrial growth during this period because of its sheer size and plentiful resources. Railroads (also largely financed by British banks) had developed the interior east of the Mississippi by 1860. The completion of the first transcontinental railroad in 1869 symbolized the opening up of the vast interior west of the Mississippi, with its vast agricultural and mineral resources. Northern factories intensified production during the American Civil War of the 1860's and never let up. In 1870, Europe produced 60% of the world's manufactured goods. By 19l4, it had fallen to 40%, that drop being mainly caused by growing American industries.
One non-Western country, Japan, had also industrialized by 1900. Ironically, Japan had shut itself off from Western influences since the 1600's. But, in 1854 the United States forced Japan to trade with the West, and it decided to beat the West at its own game by industrializing. Few paid serious attention to this until 1903 when tiny Japan took on Russian in a war and shocked the world by tearing its army and navy to pieces with its own largely mechanized forces. Japan had arrived as an industrial power, showing that the West's days as the undisputed masters of the globe were numbered.
FC117
The Quickening Pace of Technological Change (c.1850-1900)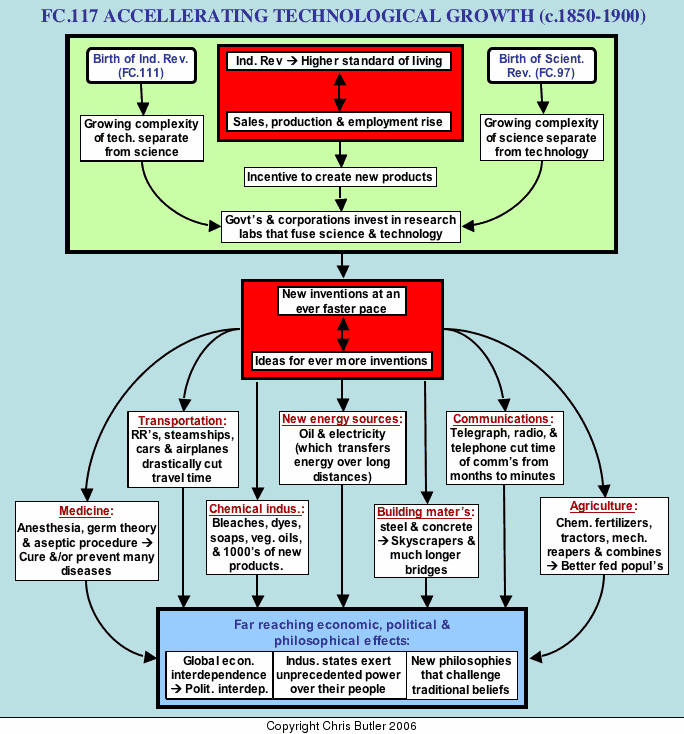 Throughout history, the slow pace of progress and the large gaps of time between new advances have generally made technological progress hard to perceive.  However, since the mid-nineteenth century, one could hardly miss seeing the rapid evolution of technology at work.  The key to this development was the fusion of science and technology in research laboratories resulting from three lines of development.
First of all, as the standard of living of the common people improved, they had money to buy goods.  Sales and profits led to more production and jobs for more people, who also now had money to spend. This further improved the standard of living, leading to more sales, production, jobs, and so on, all of which generated the incentive to create new products to sell this growing consumer market.
The second and third lines of development were the parallel, but separate evolutions of science and technology.  On the one hand, the Enlightenment spawned new discoveries and ideas in the fields of physics, biology, and chemistry.  At the same time, Europeans' growing proficiency in machines produced the power loom, spinning jenny, steam engine, and locomotive in the late 1700s and early 1800s.  However, until the 1800's, scientific and technological developments had rarely touched one another.  But as technology became more sophisticated, it became increasingly obvious that further progress would depend on fusing it with the more abstract scientific knowledge that had been developing in the universities and labs.
Because of the more complex science and technology and the growing opportunities afforded by a growing consumer market, private companies and governments set up research laboratories where scientists could develop new inventions.  No longer would technological progress rely on the random findings of brilliant but isolated inventors with little or no background in scientific knowledge.  From this point on, science and technology were fused together into one of the most dynamic partnerships in history, triggering a cycle of new inventions generating more ideas and needs that led to more new inventions and so on.  The result has been an incredible outpouring of new inventions and discoveries at an ever-accelerating pace, which continues to the present day.  All this progress bred a new optimism and faith in the ability of science and technology to solve our problems.  Some historians have even dubbed the period from 1870 to 19l4 as the Age of Progress.
One could hardly give an exhaustive list of the new inventions and discoveries of the later 1800's, but just looking at some of the highlights shows the dramatic technological and scientific progress of this period. In transportation, we have already seen the impact of the railroads.  Other developments further accelerated the pace at which the planet was being tied together.  Steam powered ships reduced travel time at sea much as the steam locomotives did on land since ships were no longer dependent on tail winds for smooth sailing.  By 1900, the automobile, powered by the internal combustion engine, was ushering in an age of fast personal travel that took individuals wherever and whenever they wanted independently of train schedules.  In 1903, the internal combustion engine also allowed human beings to achieve their dream of powered flight.  The sky was now the limit, and even that would not hold up, as the latter twentieth century would see flights to the moon and beyond.
Developments in communications were even more startling, led by the telegraph, which allowed messages to travel at the speed of electricity rather than the speed of a horse.  When transoceanic cables were laid, the time it took to get a message from one side of the planet to the other was literally reduced from months to minutes.  The invention of the telephone in 1876 made such communication more personal and accessible to the individual.  Twenty years later, Marconi's invention of the wireless radio allowed a message to be broadcast to millions of people simultaneously without having to be directly linked by wire to each receiver.  The world was effectively becoming a much smaller place.
Fuelling these new developments were new sources of energy.  Petroleum powered the automobile, while natural gas was used extensively for lighting street lamps.  Possibly most important of all was electricity, which could be transmitted over long distances and whose voltage could be adapted for use by small household appliances.  Among these was Thomas Edison's lightbulb, providing homes with cheaper, brighter, and more constant light than the candle ever could provide.
Medical advances may have had the most significant impact of all on people's lives in the 1800's.  Possibly the greatest single breakthrough in medical history was the nearly simultaneous discovery by the Frenchman Louis Pasteur and the Prussian Robert Koch of germ theory, the idea that microbes or germs cause disease.  This led to advances in three ways.  First, it gave doctors a direction in which to focus their searches for the causes of various diseases.  One by one, vaccines and treatments were found for such deadly sicknesses as malaria, tuberculosis, diphtheria, cholera, bubonic plague, and typhoid.
Secondly, it spawned a public health movement that provided covered sewers, clean water, and an overall more sanitary urban environment.  Finally, it led to aseptic procedure, where surgeons practiced their art in a sterile environment, dramatically reducing the chances of a patient contracting further infection on the operating table.  Add to this the use of ether as an anesthetic since the 1840's and transfusions and blood typing to compensate for blood loss during surgery, and patients had an excellent chance of survival. No wonder the average life expectancy rose by an unprecedented 15 years or more during the nineteenth century.
Agricultural production skyrocketed thanks to mechanical reapers and combines, steam tractors, hybrid crop strains, and chemical fertilizers.  Growing knowledge in chemistry led to a thriving chemical industry, which produced soaps, alkalis, bleaches, dyes, vegetable oils, and a vast number of other products.  New building materials were used.  The formula for concrete, lost since the time of the Roman Empire, was rediscovered, while the Bessemer Process, which worked iron at much higher temperatures, leading to the production of high-grade steel.  Together they made possible the architectural monument that best symbolized the modern age, the skyscraper.  In addition, there were numerous other inventions to make life easier or more interesting: refrigeration, cameras, movies, and record players, to name a few.
This rapid and wide range of technological advances had profound economic, political, and even philosophical effects on Western Civilization and eventually the entire human race.  Economically, we have become globally interdependent, since industries rely heavily on raw materials found only outside of their countries' borders while less industrialized nations rely on the goods those industrialized nations produce.  Global interdependence in the 1800's led to a common worldwide gold standard to smooth over the complications of international trade.  Although that gold standard has since been abandoned, the various national economies still operate as one integrated global economy.  This has certain dangers as well, since the collapse of one nation's economy can trigger the collapse of others across the globe.  The best-known example of this is the Great Depression of the 1930's, starting with the collapse of the United States' economy and then spreading worldwide.
The need for an integrated national economy with common railroad gauges and safety procedures and the elimination of internal tolls and other hindrances to trade has helped create the modern industrial state.  New technologies, such as sophisticated and expensive modern weaponry that only governments can afford, faster communication to keep closer track of its citizens, and faster transport for moving its forces quickly to quell any civil disturbances have radically increased the modern industrial state's power over its population. Public education has been another outgrowth of the Industrial Revolution, teaching a nation's population a common body of knowledge and values, such as patriotism and living precisely according to the clock.
The Industrial Revolution has spawned new beliefs and weakened old ones.  Longer life spans and the enticements of a higher standard of living have reduced the proportion of people deeply involved in religion.  Instead, many people have chosen a more materialistic way of life.  In fact, the philosophies of Materialism and Positivism emerged in the late 1800's, showing a growing faith in the potentials and values of material prosperity and modern science respectively.  At the same time, Darwin's theory of evolution has emerged, seen by many as a threat to religion.  Another powerful idea to emerge was Marxism, an economic and political philosophy that became a major force in the twentieth century.
Technology is certainly a double edged sword that has also created new problems such as pollution, overpopulation, the greenhouse effect, depletion of the ozone layer, and the threat of extinction from nuclear war.  It has also been used to give us prosperity our ancestors could never have dreamed about.  Whether it is ultimately used for our benefit or destruction is up to us and remains in the balance.